The Connected Trailer

Custom Specification & Design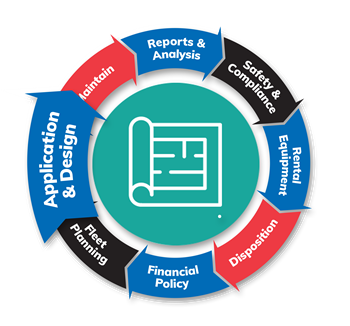 PLM's application and design team can design a custom-made trailer that fits your needs and gives you a truly personalized refrigerated trailer. We offer best-in-class trailer construction with safety features standard.
Driver Friendly
Loader Friendly
Low Maintenance
Damage Resistant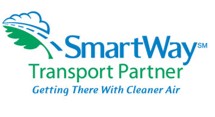 As an active member of EPA's SmartWay® program, PLM helps companies qualify to meet their sustainability goals through trailer technologies, but goes beyond the program to engage the carbon footprint of the diesel engine of the refrigerated trailer.
PLM Fleet® Standard Specifications - not a "one size fits all" company

With 13,000 refrigerated trailers in our fleet, varying in lengths from 28 feet to 53 feet and heights from 12'6" to 13' our trailers are designed in multi-, single-, hybrid and electric-only units. If you need it, we can build it.

Multi-Temperature trailers are ideal for transporting several products that require different temperatures or delivery to various merchants or retailers. Each of our multi-temp trailers can be subdivided into three temperature-controlled compartments that are ideal for transporting frozen, refrigerated or dry products. Off-load is quick and easy on forward compartments through the side doors.
Single-Temperature trailers are ideal for transporting a limited number of commodities that require one set temperature. Whether your business is local with multiple stops or nationwide, PLM has the right size refrigerated trailer for you.
Electric and Hybrid models are environmentally Friendly, zero-emission, Single-Temp Refrigerated Fleet to the cold storage industry. PLM's eco-friendly electric-only fleet are comprised of stationary, all-electric refrigerated trailers that run on 230 VAC or 460 VAC power delivering maximum performance with less impact on the environment. Our hybrid versions can operate Over-the-Road or stationary as they are equipped with both electric features and an engine.
All-Electric, Solar trailers run on the power of the sun! These zero-emission trailers will increase safety, eliminate warehouse diesel particulate, decrease noise pollution and significantly reduce yours carbon footprint. The Solar Tech TRU can keep food cold, or frozen for over-the-rood or multiple-delivery operation. In addition to the photovoltaic soar film on the roof, trailers have a wheel momentum generator to help charge the unit's batteries while driving.


Rob Fortney, Director of Customer Application & Product Design
With over 40 years-experience working with two major trailer industry OEMs, my role at PLM is to work with our customers to customize the refrigerated trailer specification to meet their needs by optimizing the trailer application and design through safety, durability, and new technologies. I also work with our customers on efficiencies in loading and unloading practices and gaining potential savings through fuel efficiency, driver productivity and enhanced trailer performance.
Application & Design Case Summary
Problem: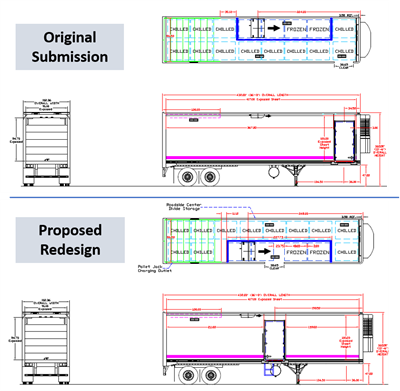 Customer requested a 36' multi-temp trailer that included a center divide freezer section with its own evaporator, centered on the roadside of the trailer, making it difficult for the driver to access the pallets at the rear of the freezer section. Additionally, the customer requested a side door to be positioned on the curbside front which required an expensive platform / step system to access the front section of the trailer.
Solution: After consulting with the customer and their drivers, PLM proposed an alternative solution to the design of the trailer - Moving the freezer compartment forward and centered on the curbside of the trailer. Also, we suggested relocating the side door to the center section of the freezer compartment and lengthened the compartment 18" to allow the driver to step-in between the pallets. The relocation of the door allowed for a simpler access system to the door. PLM also recommended adding a pallet jack recharging system outlet at the rear interior of the trailer to allow for recharging between deliveries.

Impact: By implementing PLM's redesign, the customer was able improve driver safety, productivity and efficiency for deliveries and optimize their fleet equipment, ultimately saving them time and money.