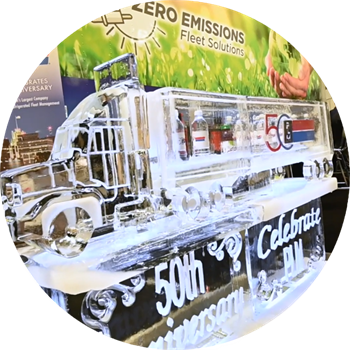 Back to all News/Press Releases
PLM Fleet Showcases Zero Emissions Trailer at ACT Expo
ANAHEIM, CA – May 5, 2023 – Mark Domzalski presents PLM Fleet's Zero Emissions refrigerated trailer at the Advanced Clean Transportation (ACT) Expo 2023. PLM Fleet's Zero Emissions units, on the road today in California, are powered by lithium batteries, solar panels and a momentum generator.
KTLA News at ACT Expo with PLM Fleet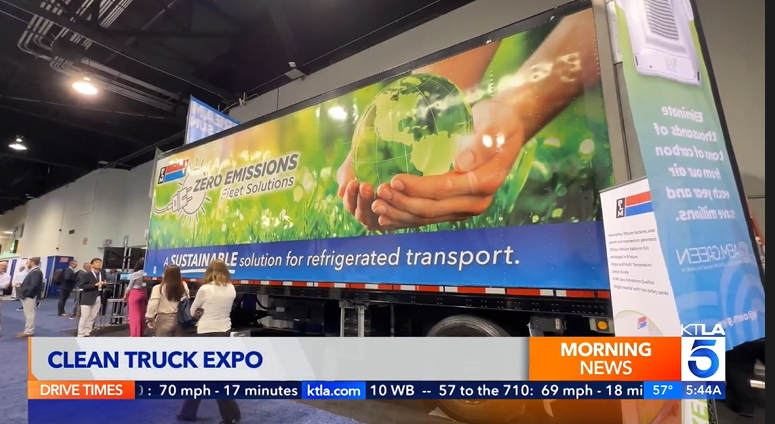 KTLA News visited the Advanced Clean Transportation Expo in Anaheim where the latest sustainable vehicles are on display including electric, hydrogen and biofuels. Rich DeMuro of KTLA News takes a first-hand look at the solar panels on PLM's trailer. "This is able to haul groceries and all refrigerated produce in the state of California today with no diesel. It runs on solar and electric," noted Mark Domzalski, CCO of PLM Fleet.
PLM Fleet showcased the innovative Zero Emissions refrigerated trailer technology at ACT Expo in Anaheim, CA, along with the world's largest OEMs and suppliers who presented the newest advanced vehicles, transportation technologies, and services.
AEM's innovative Zero Emission TRUs are the only California state approved refrigerated units for multi and single temperature units, with over a decade of successful road test safety and reliability data behind it. AEM currently has 98 units actively operating in California. The California Clean Off Road Equipment Voucher Incentive Project (CORE) has been awarding zero emissions vouchers to AEM since 2020. PLM Fleet LLC, a leader in Refrigerated Fleet Management, is currently offering full-service leasing and rental solutions for AEM's SolarTechTRU.