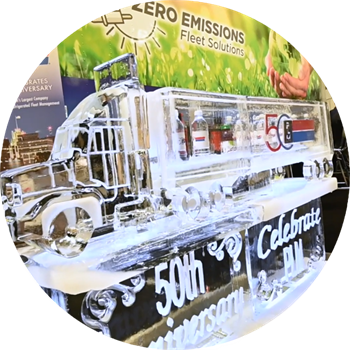 Back to all News/Press Releases
PLM Fleet Hosts Four Panels at IFDA DSC 2022
With a team of subject matter experts, PLM advised conference attendees on changing policies and best practices to manage supply chain disruptions, food safety, and sustainability requirements. Don Durm, VP Customer Solutions at PLM Fleet, moderated all four sessions.
1. Fleet Operational Efficiencies & Sustainability Strategies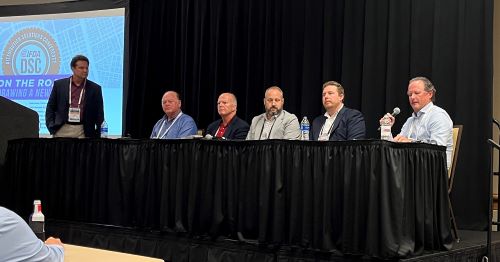 The panel reviewed how to leverage clean technologies and shift distribution centers and fleets to alternative distributed energy and zero emissions fuel solutions. WAIRE and CARB requirements in California require businesses to comply with standards to reduce emissions and meet sustainability goals. This panel's experts presented best practices and initial steps to meet these new guidelines. how GridMarket will assess properties at no cost and provide a report to determine distributed energy potential, custom created for each facility. With an EV energy infrastructure in place, PLM's Zero Emission trailers can be fully recharged in 8 hours. These zero emission trailers are equipped with TRUs from Advanced Energy Machines (AEM). Robert Koelsch, Founder and CEO of AEM, and Mike Marshall, VP Sales of PLM Fleet, explained how this product offers the only California state approved refrigerated units for multi and single temperature application. Lithium batteries, solar panels and a momentum generator provide 30 hours of run time.
2. Supply Chain Disruptions & New Challenges in Equipment Acquisition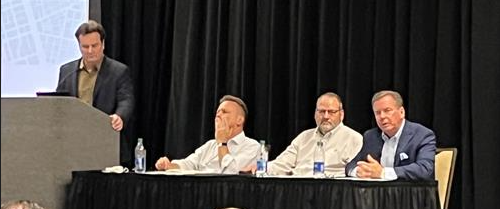 This was a must-attend for companies looking to acquire equipment in the next three years. Getting the correct spec and design of transportation equipment has always been top of mind for distributor asset acquisition. As we navigate the new normal of the pandemic, shortages, supply-chain disruptions, and costs of raw materials have significantly impacted the suppliers we count on. This session explored some of the major issues in spec and design of transport equipment, the current disruptions and how distributors need to adjust both short- and long-term equipment acquisitions.
3. Transforming Your Food Distribution Business; How to Increase Margins and Food Safety Simultaneously

IFDA's Operational & Financial Report reveals that Labor and Inventory Control continue to be major challenges within the food distribution community. Food distributors face increased competition with age-old operational challenges like inventory inaccuracies, shrinkage, food waste/loss, incomplete deliveries, delivery rejections, quality discounts, and counterfeit products — and must absorb the costs associated with each. The unnecessary waste increases business costs and further reduces profit margin. Technologies used in the current distribution centers weren't built for the modern era, which calls for fast, accurate, detailed, real-time information. Many companies still use antiquated, manual processes — including handwritten documents, spreadsheets, email, and phone calls — to share information about products internally and externally with partners in the chain. These processes are time-consuming, inefficient, and prone to error — wasting money and labor every day.

This panel reviewed technology that is now available to streamline operations. With the PLM TrustLink™ cloud-based SaaS platform, products can be delivered to customers along with a unique end-to-end brand experience while saving time and money.
4.Food Safety Workgroup Meeting
Don Durm and Brian Wood of PLM TrustLink provided strategies to navigating the New Era of a Smarter Food Safety of FMSA's new proposed 204 rule. They explored technology strategies on how to work in a world where there really isn't interoperability between trading partners. Their businesses include quick service restaurants, food distributors, food producers, and grocers and food retailers. PLM TrustLink is a solution for all these food segments in identifying inefficiencies to improve quality, food safety, inventory management and reduction of waste in the supply chain.