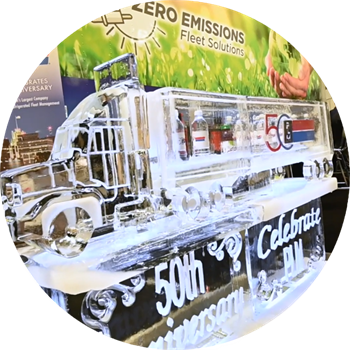 Back to all News/Press Releases
PLM Fleet Exhibits at Booth #1201 at IFDA DSC 2022
Newark, NJ – August 12, 2022 – PLM Fleet, a leader in technology-driven fleet management solutions for refrigerated trailers, is exhibiting at the 2022 IFDA Conference in Tampa, FL from September 14th – 16th at booth #1201. On display will be a 28' Zero Emissions trailer, powered by lithium batteries, solar panels and a momentum generator that provides 30 hours of run time.
PLM's Don Durm, VP, Customer Solutions and Rob Fortney, Director, Customer Application and Product Design will be presenting at the "Supply Chain Disruptions & New Challenges in Equipment Acquisition" seminar on September 14th from 1:00 PM – 2:00 PM. This is a must-see session for businesses acquiring equipment in the next 3 years. They will share insight on the major issues in spec and design of transport equipment, the current market disruptions, and offer guidance on how to adjust to both short and long-term equipment acquisitions.
Additionally, PLM's Don Durm and Mike Marshall, VP, Fleet Leasing – West & Zero Emissions, will present at the "Fleet Operational Efficiencies and Sustainability Strategies – How to leverage clean technologies to move your distribution center and fleet to alternative distributed energy and zero emission fuel solutions to meet your sustainability goals" seminar on September 15th from 4:00 PM – 4:45 PM. Join this session to learn how to transform your DC and fleet over to an alternative energy solution that drives operational efficiencies while achieving sustainability goals.