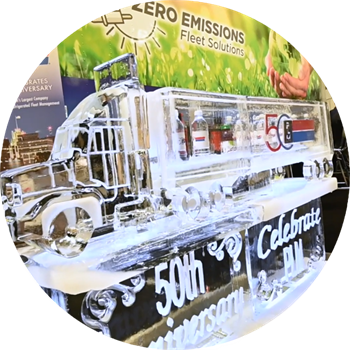 Back to all News/Press Releases
Electrifying the Reefer Fleet
GINA VEAZEY
Source: Cold Facts July/August 2021 issue
The transition from diesel to electric-powered trucks and refrigeration units is happening.
As a decarbonization movement gains steam in trucking and elsewhere, some cold chain suppliers and operators have already made the leap into alternative power and fuels. These early adopters are harnessing the efficiency and sustainability of electricity to power refrigerated trailers and Transport Refrigeration Units (TRUs) – and in many cases, using alternative fuels to power tractors.
Climate Tops the Global Agenda
A growing number of regulations and financial incentives, a shifting social and political landscape and a strong business case are driving the transition toward a greener future. "The [electric vehicle] and decarbonization effort crept up on us very fast," says Glen Kedzie, Vice President, Energy and Environmental Counsel with the American Trucking Associations (ATA). Big changes on the U.S. political front rapidly created an environment for electrification initiatives to advance, says Kedzie. Control of both houses of Congress and of the White House is now in the hands of Democrats. "There's a philosophy totally unlike the last administration – science, climate change and terms like 'environmental justice' are discussed." Kedzie also observes there has been a shift in the social consciousness, with the public more interested in sustainability initiatives and corporate America increasingly concerned about the risks of climate change. These forces are not unique to the United States.
"The industry, as we've known it up to now, will be different in the future," commented Victor Calvo, President, International Truck & Trailer, Carrier Transicold, in a video briefing in April 2021. He cited the European Commission's 30% CO2 reduction target by 2030, low- and no-emission zones and lownoise regulations as some of the regulations moving the industry away from fossil fuels and into alternatives including electricity and, in the future, hydrogen.
Eyes on California
Even though decarbonization has advanced considerably in recent months, there are still many more questions than answers about how a transition to electrify the trucking fleet, let alone reefer trailers, will play out. "It's not just about flipping switches and traditional fossil fuels go away," Kedzie says. "This is going to take a long period of time, especially in the trucking sector because the trucking sector is so diversified." In the United States, California is the petri dish for innovation, points out Kedzie. "In the past, we always said 'be aware of what is happening in California since their proactive approaches could spread throughout the country.' Historically that hasn't happened at warp speed, but the times they are a changin'." As an example, California is currently creating new TRU regulations, a process closely watched as other states may adopt the regulations as part of their decarbonization efforts. California plans two TRU regulations – first priority is a regulation for TRUs on straight trucks, and in the future, the state is expected to develop a regulation for TRUs on trailers. Kedzie says there are very stringent requirements, and phase-ins are going to be very tight. He expects costs of compliant TRUs, trailers, and tractors to rise with implementation of the regulations. At the federal level, there are a wide range of issues surrounding zero-emission vehicles. These include financial incentives for new equipment and the build-out of a new fueling infrastructure, weight exemptions for battery packs and fuel cell technologies ensuring there are no competitive advantages for specific fueling types, and many others.
Turnkey Solutions
From zero-emission vehicles (ZEVs) to hybrid-electric and solar to telematics and shore power solutions, today's early adopters say there are many benefits to electrification. Here's what a few transportation companies are doing to make today's refrigerated fleets more sustainable. PLM Fleet offers a hybrid-electric TRU and a zero-emission eTRU solution. The latter is powered by lithium batteries and augmented by power from solar panels and a momentum generator, allowing it to achieve 30 hours of runtime without a charge. With access to robust telematic data about the performance of its ZEVs, PLM and its customers have been able to keep tabs on nearly every aspect of their operation. PLM says its test and trial results have shown the operational savings associated with a ZEV can be as high as 93% as compared to diesel. "We've been very impactful working with many of our customers in creating the sustainability reports that their customers are looking for," says Don Durm, PLM Fleet Vice President, Customer Solutions and Vice Chair of the International Refrigerated Transportation Association (IRTA), a core partner of the Global Cold Chain Alliance. Importantly, the telematic system allows customers to set alarms according to specific operational parameters, a capability that helps them easily identify and address exceptions. This includes information about:
When and how long the doors were open
When and how long the unit was on charger and running
When the unit was taken off charger
When the unit departed
How many stops the unit made along its route
When the trailer was in motion
Battery status along the route
Ambient temperature along the route
Payload compartment temperatures
Despite these and other benefits, some constraints remain. Specifically, these systems work best for fleets that can return to the maintenance facility within a 24-hour timeframe for charging. "Can they get back within 24 hours to a charger? If we can say yes, we'll move to the next step," says Mike Marshall, Vice President of Zero Emissions at PLM Fleet. Marshall says that, even for the company's hybrid TRU solutions, cultural and operational change management can be a challenge. PLM and its customers have found it helpful to have SOP documentation and best practices in place for customers. Supplying power to the hybrid-electric TRU and eTRU systems, which require access to 460- or 230-volt three-phase power, is an important consideration for infrastructure deployment. The all-electric systems, which ultimately run on 46-volt DC, make use of a nearby transformer. This arrangement supports an eight-hour charge time. Although the ZEV technology is more costly, PLM has reserved almost $6 million in vouchers for zero-emission TRUs through California's Clean Off-Road Equipment Voucher Incentive Project (CORE).
Strategic Sustainability
Carrier Transicold EMEA announced a sustainability strategy in April 2021, and anticipates launching its Lynx Fleet telematic platform in Europe this summer. "The Lynx solution gives customers greater insights into their cold chain operations," says Calvo. "This IoT solution can enhance connectivity across the cold chain and help increase fleet uptime and optimization, which can reduce cargo spoilage risk." The Lynx solution gives transport operators proactive maintenance suggestions for Carrier Transicold equipment, which can help to maximize uptime and reduce unexpected repairs. The system allows operators to remotely access the pull-down sequence when the TRU is connected to the grid, which may help to reduce fuel and labor costs. The system also offers advanced reporting capabilities. The Lynx Fleet leverages refrigeration equipment telematics and sources of data, along with machine learning, to help customers make faster, data-driven decisions to improve the effectiveness, efficiency and sustainability of their supply chains. Designed with an open application programming interface, data in Lynx Fleet can also be fed into a customer's own transport management system. A central part of the company's sustainability strategy is its fully electrical and autonomous trailer system, the Vector® eCool, which uses an energy recovery and storage system to charge batteries powering the refrigeration unit. The technology produces no direct CO2 or particulate emissions. Also part of its sustainability portfolio are the company's engineless options for rigid trucks, specifically a new electrical power inverter that works with any form of vehicle power, such as diesel, natural gas, electric or even hydrogen fuel cells, to operate the refrigeration unit. Carrier Transicold also announced a new strategic partnership with the Portuguese technology company AddVolt. The companies will collaborate to develop sustainable transport refrigeration solutions that are compatible with the new Lynx Fleet application.
End-to-End Electrification
Back in North America, KeHE has launched a number of initiatives to reduce the company's overall footprint, on and off the road. "KeHE has been driving forward with a focus on sustainability over the past five years. In the last three years, we've been able to upgrade and advance our technology to what the market has to offer in many locations," says Tom Harden, Senior Manager of Fleet Assets. An early adopter, KeHE has put an estimated 150 eTRUs into service. Now it is implementing a shore power system mated to its eTRUs that eliminates the need for diesel while a truck's trailer is plugged in at one of the company's 16 distribution centers. "It's a year-over-year process that requires a lot of planning for construction, vehicle upgrades and MPG strategies," explains Harden. "These efforts are often not an overnight success but a culmination of keeping the vision clear with the fleet as well as working alongside each of our locations to ensure sustainability is a focus."
The newest KeHE distribution centers are being outfitted from the ground up with the shore power system, and some existing facilities have been retrofitted with the system. "Cost seems to be the only barrier we've faced to this point, and that only seems to be applied to retrofitting current facilities versus building new facilities with shore power in the plans from the start," observes Harden. "The construction labor is much higher when adding Shore Power, and it takes more planning and resources to complete the jobs." Harden notes adding a shore power system often includes adding infrastructure to locations within the building that did not previously exist. In some locations, adding infrastructure to existing buildings has cost 100% more than building it in the company's new facilities."
In March 2020, KeHE announced the addition of five renewable natural gas (RNG) trucks to its California fleet. The trucks replaced five diesel trucks, delivering an annual carbon reduction of 674 metric tons.
End of the ICE Age
In March 2021, UBS said it expects ZEVs to displace the internal combustion engine (ICE). UBS predicted uptake to gain traction in the heavy-duty and medium-duty truck market over the next decade, with ZEVs achieving at least a 30% share of the annual heavy-duty truck market across North America, Europe and Asia by 2030. For medium-duty ZEVs, UBS predicted an even higher market share – at least 40 to 45% in that same period. In addition to regulatory drivers, UBS cited the increasingly favorable economics of ZEVs. Its total cost-of-ownership analysis showed battery and fuel cell electric vehicles (BEVs and FCEVs, respectively) gaining an edge over ICE vehicles by 2030 – even adjusting for the increased weight of ZEVs and for an expected decline in the cost-per-mile to operate ICEs.
GINA VEAZEY is a writer and editor based in Rehoboth Beach, Delaware, who specializes in technology.
Email: gina@veazeymedia.com