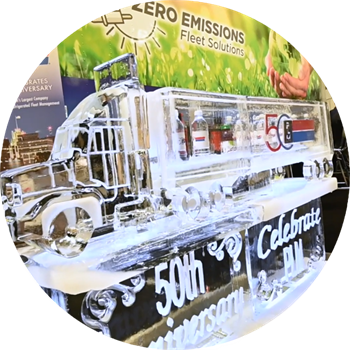 Back to all News/Press Releases
Monitoring the Cold Chain
Sep 23, 2018
By Karen E. Thuermer
GCCA Cold Facts, Sept-Oct, 2018

Developments and innovations in temperature monitoring, telematics, and track and trace technology have been developing at a fast pace with a large focus on temperature control.


Monitoring at Sea
The ocean sector has been increasingly employing refrigerated containers (reefers). Hapag Lloyd deploys reefers that utilize Controlled Atmosphere (CA) ExtraFresh, Everfresh, and Xtend-FRESH technologies. Xtend-FRESH CA equipment, developed in partnership with container manufacturer Carrier Transicold, ensures optimal cargo care for fresh fruit and vegetables while remote monitoring solutions allow for the continuous supervision of individual integrated reefer container operations throughout the voyage. Mobile connectivity devices enable live and central analysis of its reefer fleet.
Hamburg Süd offers a Multi-Temperature Mode that allows the steamship line to run defined temperature programs on reefer containers instead of using a single, constant temperature for the entire transport. Its reefers are capable of maintaining temperatures between minus 30 degrees C and plus 30 degrees C. Its PrimeLINE®/MAGNUM PLUS® containers can be cooled to minus 35 degrees C; the 20-foot MAGNUM PLUS® containers to minus 40 degrees C, which is ideal for transporting fish.
Evergreen Line is enhancing its operations with 3,000 containers refrigerated by Carrier Transicold PrimeLINE® units, chosen for their refrigeration performance and power efficiency.
"With its digital scroll compressor, the PrimeLINE unit has a reputation for energy efficiency and a value proposition that includes rapid pull-down, tight temperature control, high air-flow performance, and excellent cost of ownership," said Andrew See, General Manager, Global Container Refrigeration, Greater China, Carrier Transicold. "Evergreen's PrimeLINE units feature our LED control-display option, which the shipping line considers advantageous for ship crew members visually monitoring stacked containers onboard a vessel."
Rail and Trucking Developments
The trucking industry is increasingly employing telematics to ensure certain reefer units have enough fuel and are set correctly and running properly. Remote data monitoring simplifies centralized recording keeping.
The trucking industry is keeping a watchful eye on the Food Safety Modernization Act (FSMA) requirements regarding temperature monitoring. "The regulations put the fear of God into carriers to do so, although many carriers were doing it already," says Robert Fay, President, Florida Freezer LP.
In particular, FSMA establishes requirements for shippers, loaders, carriers by motor vehicle and rail vehicle, and receivers engaged in the transportation of food, including food for animals, to use sanitary transportation practices to ensure the safety of the food they transport.
The 2016 final rule was revised to include requirements applicable to receivers (any person who receives food at a point in the United States after transportation, whether or not that person represents the final point of receipt for the food) to provide that upon receipt of food that requires temperature control, a receiver must take steps to determine whether the food was subjected to significant temperature abuse. It also notes that the receiver at this stage "may review temperature monitoring information from an onboard temperature monitoring device that might have been employed during the food transportation process, and that such an approach would meet the requirements of this rule."
Consequently, many carriers are now employing temperature monitoring devices in their fleets as well as GPS telematics devices that send out alerts when a the temperature reaches a certain threshold.
"It's a practice rail has been doing for some time," says Fay. "Union Pacific, in particular, put its own telematics into rail car systems that are satellite tracked."
In Fay's own fleet of trucks, Florida Freezer LP is changing from an exterior probe to an interior monitoring device. He also notes how trucking companies are integrating materials into truck designs for better R- values.
"There's continual improvement," he says. "There won't be a paradigm shift. But if you've not monitoring your shipments, you shouldn't be in this business."
Don Durm, Vice President of Customer Solutions for PLM Trailer Leasing, describes how some companies are now employing satellite tracking tools to remotely control and monitor temperature and other activity for an entire fleet. Durm points to PLM Trailer's ColdLink, which is a web-based management tool that provides two-way GPS tracking that enables "real time" visibility into the entire fleet.
"Not only can you track your trailers to determine when equipment is out of a specific territory, you can also monitor the temperature of products while en route to minimize product loss," he says.
According to PLM's website, ColdLink allows fleet managers to receive alerts when trailer temperature changes en route, and change it immediately from their desk; obtain current and historical data about their freight; determine driver and route productivity; identify hazards and potential breakdowns before they happen; minimize loss and missed deliveries, and be sure product stays at the right temperature from dock to customer door.
"Trucking companies, or 3PLs, frequently wait in line to get to the facility," he says. "Telematics can give proof of time and delivery, but the problem is much of the information that logs when a truck enters the 'geofence' is done by human intervention. And humans make errors."
While telematics technology is available today, Durm contends that it is not widely used despite the fact it can provide information regarding when the driver left the loading dock and arrived the unloading facility. "It also provides proof that the shipment was temperature compliant. For that reason, it's gaining popularity," he adds.
Next Step
And just for that reason, block chain technology appears to be the next step for the industry.
"Data is everywhere and you can track everything now, whether using smart phones or other hardware to monitor tasks," states Keith Mowery, Vice President, Transportation & Logistics, United States Cold Storage. "We have visibility to many carriers information that not only shows where the truck is located, but also the temperature of the trailers."
But the challenge today is bringing information from multiple providers to one platform.
Block chain technology can do that since it operates as a distributed database that is updated in real time. Telematics can record the exact time the truck comes through the geofence, and that, along with other information, can be fed to the block in real time. "Telematics can message to the block," Durm says. "What's important is you can share certain information. It brings supply chain transparency to the industry and can track rising costs."
Data is stored in decentralized locations and is easy to monitor. It provides a level of security, and therefore confidence, since information cannot be changed as it is 100 percent technology driven. "Block chain is the telematics that brings supply chain transparency to the entire industry," Durm states.
Telematics can be used in conjunction with electronic logging devices (ELDs), the use of which became mandatory in December 2017.
"ELDs have affected the industry, specifically highlighting loading/unloading delays when they occur," Mowery comments. "Delays at loading/unloading facilities are the number one driver of inefficiencies in the trucking industry. The implications of the ELD mandate may open the door for more common sense and reasonable adjustments made to the Hours of Service regulation."
Durm emphasizes, however, that block chain is not a data repository and does not provide analytics or artificial intelligence. "It's just data between trading partners," he notes.
KAREN E. THUERMER is a freelance writer based in Alexandria, Virginia, who specializes in economic and logistics issues.
EMAIL: kthuermer@aol.com