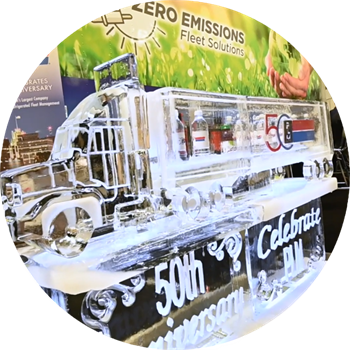 Back to all News/Press Releases
Gain Efficiencies with Reefer Leasing
Oct 22, 2018
By John R. Yuva
Food Logistics Magazine

As the largest leaser of refrigerated trailers in the United States, PLM Trailer Leasing examines the total leasing apparatus from a life cycle fleet management perspective. Don Durm, vice president, customer solutions for PLM, says the monthly lease payment is only one consideration when leasing a refrigerated trailer. It begins with analyzing the optimal life cycle and its total impact on the business, only then are you prepared to consider the proper financial instrument for the business.
"A traditional lease payment is calculated by estimating the residual value of the asset, the difference between the cost at sale and the value at end of term. For a refrigerated trailer, it's more challenging because there really is no Kelley Blue Book value," says Durm. "We base our leasing model on other factors beyond residual value such as consumption. Because the refrigeration unit is the most expensive piece on a refrigerated trailer, estimating the number of hours in use provides the best value for the customer before equipment inefficiencies and failure begins to impact their business."
Durm says fuel is one of the leading expenses during a leasing life cycle. And fuel is highly impacted by the refrigeration unit. New trailers operate at 0.52 gallons per runtime hour, as reported by the manufacturer. However, during the lifetime of the trailer, fuel efficiency decreases.
"I started examining this issue of fuel efficiency, and based on telematics, it's affected by engine speeds," says Durm. "A refrigeration engine speed is directly related to the insulation efficiency. As the trailer box ages, it begins losing its R factor rating (thermal resistance) and the unit runs at higher speeds for longer periods of time—consuming more fuel," says Durm.
"Thus, a customer may want an eight-year lease, but based on its expected runtime, a five-year program may be a better recommendation based on life cycle efficiencies," Durm adds. "By having a controlled life cycle on a refrigerated trailer, you can influence other parts of your business such as fuel, driver retention and technology investments."
A lessor is as much a business partner as customers you deliver to. Durm explains that PLM conducts a Foodservice Trailer Needs Analysis to ensure refrigerated trailer specifications are the most efficient for the demands of the customer and its operation. Thus, a PLM representative oversees how the trailer is operated throughout the distribution channel, beginning with loading, transport (including temperature monitoring) and unloading.
"An operator can control warehousing and temperatures inside the facility, but once the reefer is untethered from the dock and begins its delivery, that's when an operator is most at risk," says Durm. "We help customers understand those potential inefficiencies, as well as choosing the correct flooring, refrigeration unit and hybrid options for their operation. Listening to our customers and getting involved in their operation is a critical and essential part of our business."