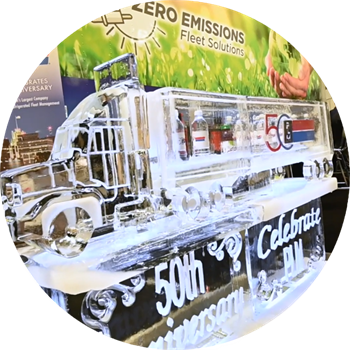 Back to all News/Press Releases
Freshening Up the Cold Chain
Mar 09, 2018
From Winsight Grocery Business, February 2018
By Pan Demetrakakes

The cold chain is facing fresh challenges. The rapid growth in sales of fresh food is increasing the demands that grocers are placing on those who store and transport it—whether they are employees of those grocers, their wholesalers or third parties. And it's requiring a lot of technical and logistical innovation to get food where it needs to be, on time and in the proper condition.
"I would say the biggest development of the last year has been the renewed focus on having a fresh cold-chain network," says Josh Brogan, VP for A.T. Kearney's analytics practice. "[For] the clients I'm working with today, ultra-fresh product is growing at an enormous pace, while the rest of the store is actually shrinking."
According to Packaged Facts, sales of frozen food in the four major categories of dinners/entrees, pizza, side dishes and appetizers/snacks have remained stagnant from 2012 through 2016 (the last full year available). Meanwhile, major categories in fresh food, such as eggs, salads, refrigerated meats and refrigerated side dishes, have experienced double-digit growth, or nearly so, according to IRI.
The shift from frozen to fresh has not been lost on Don Durm, VP of customer solutions for PLM Trailer Leasing.
"When I was growing up, you would walk into a grocery store, and there would traditionally be four or five aisles of frozen food," Durm says. "You would go to the back to get your fresh meat, and then maybe a little bit on the side would be your produce. Today, refrigeration almost begins with the fresh-cut flowers at the front of the store. It goes all the way around with the bakery, wraps around with the produce, then the fresh meat department, and you just keep going around there. Manufacturers understand this. People are shopping the perimeter of the store."
The most obvious challenge with delivering fresh, refrigerated product is shelf life, while the degree of challenge varies. Certain items, such as meat or prepackaged produce, Brogan says, have relatively long shelf lives. "But when we're talking about things like cut fruit or foodservice [items] like freshly made pizza, the shelf life is significantly lower—a couple of days, as opposed to a couple of weeks," he says.
The challenge is intensified by the demand for flexibility in delivery. Mixed, customized pallet loads have become the norm, says Chris Owens, VP of business development for third-party logistics provider Americold.
"That pallet of one type of frozen pizza is now a mixed pallet of fruits, vegetables, dairy, breads, meats and seafood," Owens says. "It's customized for the destination store and loaded in sequence to match the pallet unloading rotation on the route from the back-of-the-store cold room, down the aisles to the individual SKU shelf locations in that store. Most retailers' legacy distribution models are not built to support this change."
Handle With Care
Delivering mixed loads, reliably and safely, is complicated by the fact that many kinds of fresh products have unique handling requirements. The most basic is that different products have to be kept at different temperatures. For fresh foods, these can range from about 28 F for fresh meat to about 55 F for potatoes and bananas.
Another complicating factor is that many forms of produce, especially those shipped out of season, are picked unripe and meant to ripen en route. This has to be timed to the delivery schedule, and if that schedule is thrown off, the product's shelf life can be reduced—or, in extreme cases, the product is ruined.
28 F Temperature at which fresh meat should be held, compared to 55 F for potatoes and bananas.
"Many fresh items, when picked/shipped, are done so before maturity and then ripen in transit or when in the hands of the consumer," says Sean Maharaj, a director in the retail practice of consultancy AArete. "The challenge for these items occurs when transit times become prolonged due to shipping issues or weather-induced conditions," in which case, he says, "the freshness factor falls into jeopardy. In some rare cases, refrigerated ocean containers with fresh produce from overseas have been stranded at local ports where the items ultimately spoil or need to be disposed of because of their unsaleable condition."
To make matters more complex, certain products, such as blueberries and bananas, emit gases such as carbon dioxide or ethylene. Other kinds of produce, such as tomatoes, are picked unripe and are deliberately exposed to ethylene, typically by a distributor, to ripen them just before delivery to a grocery store. Complications arise when these types of produce items are stored in close proximity with those that emit ethylene, which can ripen neighboring produce prematurely, with ruinous results. This can happen easily because often, ethylene-rich products such as bananas must be shipped in open boxes to allow them to off-gas. Besides inadvertent ethylene exposure, this presents issues with cross-contamination during transport.
"You have to make sure that you're sanitizing your trailers properly, and then you're worried about cross-contamination when you have a mixed load," Durm says.
Factors such as off-gassing often make delivery of fresh produce more complex than simply segregating loads by temperature level.
"Typically, it's best to marry like products together that have similar [temperature] needs, but considerations such as carbon dioxide production and respiratory behavior all present additional challenges," Maharaj says. "Without these factors considered, issues such as foodborne illnesses and pathogens become a real problem from both a consumer health and dollar value perspective."
Cut at the End
Picking and shipping produce that ripens en route—either naturally or by ethylene gassing—is by far the most common strategy for dealing with perishability during shipment. Another strategy for certain kinds of processed products is to do the processing in-store whenever possible, such as fresh-cut fruit. However, Brogan says, while cutting fruit in-store increases the shelf life and decreases the product cost, it increases labor costs.
"When you look at fresh-cut fruit, it only lasts a couple of days on the shelf," Brogan says. "There's a couple of ways we can address this. Can we put more effort on the store side? Do we ship the fruit and have the store cut the fruit, which would extend the shelf life?"
A more common way for retailers to deal with perishability issues— especially the larger players— is to insist on more frequent deliveries with ever-tighter time windows.
Robert Fay, president of Florida Freezer, a thirdparty logistics provider concentrating on cold storage, describes "anecdotal evidence" of truckers having to deliver refrigerated and frozen foods with more precise schedules. Grocers are demanding greater precision in delivery, "which is putting a greater demand on carriers that they've got to meet these time windows at a time where there is a severe driver shortage, that is only getting worse, on very crowded highways."
Perfecting the Range
The best way by far to ensure that produce and other fresh foods arrive on time and in the right condition is to strengthen the integrity of the cold chain upstream in the store. In the case of fresh food, "integrity" doesn't simply mean that it stays cold; it means that the load never varies from what can be a narrow acceptable range. This range must be maintained not only for the actual product, but also for the ambient air inside the trailer or warehouse.
"Fresh product likes to be in a very, very tight range. They don't like the swings," Durm says.
Truck technology is an important contributor to coldchain integrity. Much of that technology is concentrated in the refrigeration unit. "The major thing to get the product to the store is the ability to correctly use the transport refrigeration unit in the front," Durm says. Modern refrigeration units can be programmed to maintain the proper temperature and airflow when the operator simply enters the kind of produce.
Coupling this kind of technology with GPS, and putting it in the cloud, can increase the efficiency and reliability of temperature adjustments. For example, truck temperatures can be monitored and corrected remotely in case of driver error. If a truck is backhauling a load on a return trip, a "geofence" can be set around the pickup location that will automatically reset the trailer to the proper temperature for that load, once it arrives at a certain distance from the location. Pre-cooling trailers before they accept a load is important to maintain proper temperatures; cloud-based software helps transportation companies do so remotely with maximum efficiency.
Matter of Record
From either the wholesaler's or retailer's standpoint, maintaining temperature integrity in the cold chain is meaningless unless it's documented. Such documentation is not just good business practice; it's the law. The Food Safety Modernization Act, which became law in 2011, requires temperature records to be kept during the handling of chilled and frozen food.
Despite its name, Durm says, "There's nothing modern here. It should have been called the food safety documentation act," because of the detailed requirements for documentation, he says.
Surprisingly, not all trade customers ask for the temperature documentation they're entitled to get under FSMA. Such documentation could be gathered in batches and presented after delivery, but that's not very helpful, according to Durm: "When you're dealing in fresh product, you have to have that information at your fingertips to keep moving, because fresh product's not going to wait that long."
The basic technology for monitoring temperatures—on-site probes and loggers—has existed for years. It has recently improved in both capacity and versatility. With the advent of cloud-based software, in-transit temperatures can be monitored and recorded remotely and continuously.
"The food industry has truly embraced the technology to manage over-the-road refrigerated fleets," says Sue Rutherford, VP of marketing for Orbcomm, a supplier of temperature monitoring systems, including for factors such as frequency of door openings and pre-cooling efficiency. "Our technology makes it possible to prove and ensure cold chain compliance by seamlessly and automatically collecting and recording temperature data all the way from trailer pre-cooling to final delivery."
2011 Year in which the Food Safety Modernization Act became law.
Modern monitoring systems, used in both trucks and warehouses or distribution centers (DCs), have the potential to prioritize shipments of fresh food according to its shelf life. Instead of being scheduled for shipment according to when it was received in a facility, food would be shipped with the most perishable product going first.
"Using real-time monitoring to move from a FIFO (first in, first out) to a FEFO (first expired, first out) SOP at DCs has long been a holy grail, and one that is now within reach, to ensure the minimum amount of food waste for ethical and general perception reasons," Rutherford says.
Who Owns What?
Ownership of trucks and storage facilities generally breaks down into four classes: food processors, wholesalers, retailers and third-party options. As in many other areas, whether to outsource is a vital question in the cold chain. Third-party logistics (3PL) services have long been available, and providers of those services say retail end users are taking more advantage of them.
"The food supply chain does not stop at food production, and a large segment of our business is dedicated to grocery retailers and wholesalers," says Owens of Americold. "In fact, this is one of the fastest-growing segments of our business, as retailers shift away from an outmoded, self-distribution supply chain model to one that leverages the flexibility of outsourcing."
One of the most important factors in deciding who should own cold-chain assets is the degree of product variety that occurs at a particular point in the chain. Generally speaking, the further down the supply chain, the more variety there is—and therefore, the more segregation is needed.
"As you deal with perishables in the supply chain and changes in grocery using 3PLs, it starts to further back up supply chain in kind of diminishing levels," says Fay of Florida Freezer.
That's partly why retailers who own their own delivery fleets need more trailers per tractor than wholesalers do. Durm estimates that a wholesaler that owns the products it distributes, whether as private label items or bulk produce, might need 1.3 trailers for every tractor; for retailers, a more realistic ratio would be four trailers per tractor.
Fay says one advantage of using 3PLs is that they can help coordinate delivery schedules and other issues between retailers and their suppliers upstream—assuming both parties want that.
"The 3PL may be functioning on behalf of the manufacturer, or it could be functioning on behalf of the grocer, or it could be an intermediary between the two and it's actually working for both, depending on what item you're talking about," Fay says. "I have manufacturers that keep goods [in my warehouses] that are going to grocers who are also my clients. Sometimes they use me as their intermediary, and sometimes they don't."
Fresh food is the most demanding aspect of the cold chain. But retailers and allied trading partners that make the best use of the available technology and other options will enable the chain to be strong enough to link customers to the foods they need and want most.