COVID-19 Best Practices
for Safe Food Handling and Transport

COVID-19 Best Practices Training


Health & Food Safety Best Practices for Transportation & Delivery – COVID-19 Edition: Slowing the Spread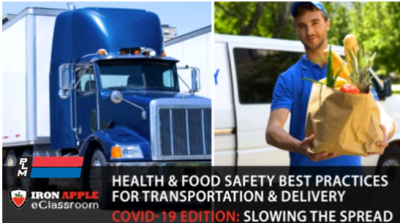 The Iron Apple eClassroom training program "Health & Food Safety Best Practices for transportation & Delivery COVID-19 Edition" is ideal for long haul truck drivers, grocery delivery drivers, delivering meal kits or meals directly from a restaurant and is intended to help keep yourself, your customers and the food you aretransporting safe.
Truck drivers, grocery and food delivery personnel will be interacting with other people, whether it's a warehouse, loading dock or delivery locations- you can't do this type of work from home. Therefore, your risk of exposure during a contagious or infections deisease outbreak increases significantly. We will be reviewing best practices to protect yourself and reminding you of food safety procedures to ensure you do not contaminate the products we are trying to keep safe.

Access to PLM's COVID-19 Best Practices training eClassroom can be accessed by clicking the link below.

The content set forth herein is not legal advice. You are advised to seek appropriate legal advice to determine whether the FSMA is applicable to your company and whether the training offered by PLM will facilitate your company's compliance with the FSMA in the event the FSMA is applicable to your company.